There isn't much info on this catback, let alone, much of any pictures anyone has taken. Especially after my aFe catback fiasco last year, I REALLY didn't want to end up with a sub-par quality catback again. If you're interested in the issues,
click here for the post.
Since removing the aFe axleback back in April, I was really missing having a catback. It sounded deeper, car was louder, the drone made driving the car more engaging and the pops really made people duck for cover because it now truly sounded like gunshots. Found someone on Reddit, of all places, that had this catback so I asked him some questions. He told me the drone was better than stock with the valve closed and he can listen to his podcasts while driving. Then I saw his video of just a cold start with this exhaust and made me start to really consider the Borla ATAK. And today's the day I finally get it in.
Firstly, Borla uses their own foam to pack this catback into a slim box. I mention this because what I got from the other company was a jam packed big box full of piping with those thick brown paper wrappings stuffed in it. Because of how the box got tossed around, the resonator got damaged along with a few holes around the box. So to me, receiving the Borla made it feel like they care about their own products and they want you to receive a product the same way it left the factory.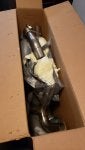 Laid everything out on top of the box and immediately went around with a magnet. Everything is pretty much 100% stainless as most of catback, the magnet would either not stick or have a weak magnetic attraction. Yes, even the flange and welds are stainless.
Here's a pic of what the "polyphonic harmonizer" looks like inside. It's 4 solid pipes in there with no perforations on any of those pipings.
The valve on this is a quality piece. There is some splatter on the inside flapper from factory (which it's whatever since it'll be covered in soot) but for the most part, it's pretty solid. It's also a slip fit end so if you ever want to try servicing it (like blasting the soot away with solvents), then you can actually do that quite easily. It's also a fully closed off valve so all the exhaust gases and drone will go through the muffler!
Muffler section is also a quality piece, even though it looks pretty rough on the inside. I first thought this was going to be a chambered muffler but it's straight through! If from what the guy said about the drone being better than stock ends up true, I'll be shocked. Still hard to believe a dinky muffler like this can have no drone but I'll find that out for myself when I get it installed.
It also came with the same instructions you can download from their website wrapped in a plastic bag. The 4 clamps are also inside of a bubble wrap sleeve and they give you 2 Borla decals (one white and one black). The only thing you DON'T GET in this kit is a 2 bolt gasket for connecting to the downpipe. For the price, I'd imagine getting a gasket tossed in but nope. Even aFe provides a few gaskets. But I'm not going to make it a big deal since gaskets are relatively cheap to buy. I'm at the 10 image limit so no pics of the extras.
Overall, WAY happier with the quality of the Borla compared to the aFe. Prices on both are even similar with the Borla costing just a bit more but in my opinion, it's worth paying the slight extra cost as the quality between the 2 is night and day.
Anyways, I hope this helps some of you guys' out that were considering a Borla as this thread would've been something I would've liked to read up on before making a big purchase.