Discussion Starter
·
#1
·
Today I finally Installed the rear cam of my 2 channel BlackVue dashcam with a parking mode power pack. I figured id make a post with a couple images and tips for anyone that may come along and not have installed a dashcam in a hatch before their VN.
i don't have any astounding advice for the front camera; i just ran the power wire from the rear view mirror to the driver side pillar and down through the side of the dash panels to the fuses. Idon't recall the fuses I used for temporary and permanent power, but I can update or comment if anyone is curious.
for running the cable to the back camera, I simply ran it along the driver side via the door seals, around the pillar, the back port window, and to the back of the back pillar. once the cable was there, is where some tips can help. From the back pillar, you should run the cable through the roof and into the rubber grommet/hose.
I accomplished this by first unsealing the rubber by pinching a side and pulling up. With that up, i pulled down gently on the interior roof so I can push the wire end until I could see it through the hole, and using a small pair of needle nose pliers to pull the cable up through. Then I secured my cable tip to a zip tie with some tape, and fed it through the rubber hose to reach the hatch door.
now, ready to get the cable to the center of the window, i removed the center trim panel from the hatch. There are a couple of slits on the edge of the trim between it and the paint that I inserted a plastic trim tool into and pulled the panel straight away. The driver side was easier, so I popped that side and just used my hands to go along and unpop the rest of the center trim.
with the center piece off, there is access to a screw that needs removed to flex the side trim piece.
with the screw out, the piece can be gently pulled on to reveal the next point you want to feed the cable to. Use the Pliers again if needed to get the wire through the hole in the hatch. Now everything is just feeding more cable and centering / mounting your camera! And then putting everything back together.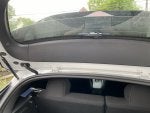 Looking back, I wished I had done a video or something, but hopefully this helps someone none the less.